S nedjelje na ponedjeljak očekuje nas najvažnija noć godine u Hollywoodu. Pred nama je 92. dodjela nagrada Akademije filmskih umjetnosti i znanosti, odnosno Oscari. Ove godine dodjela je mnogo ranije nego inače što je razljutilo mnoge glasače koji su se žalili da neće imati dovoljno vremena da pogledaju sve nominirane filmove. Akademija se i ove godine odlučila da dodjela neće imati voditelja što se pokazalo uspješnim 2019.
U ovome tekstu prognozirat ćemo tko će pobijediti u sve 24 kategorije. Svi koji prate Oscare znaju da su Oscari jako predvidivi i da u većini kategorija postoji očiti favorit koji na kraju i osvoji zlatni kipić. Ipak, svake godine se nađe nekoliko kategorija koje su neizvjesne i u kojima nekoliko nominiranih ima jednake šanse za pobjedu, a često i netko od favorita kiksa. Prošla godina bila je jedna od najkvalitetnijih filmskih godina u skorijoj povijesti o čemu svjedoči činjenica da su prvi puta čak četiri filma skupila nominacije u deset kategorija. Samim time ovogodišnja dodjela će biti puno neizvjesnija nego prijašnjih godina i samo je nekoliko kategorija koje su ziceri. Prema svemu sudeći, najviše Oscara osvojit će 1917, dok će gubitnik večeri biti The Irishman koji bi nakon deset nominacija mogao otići kući bez osvojene nagrade.

P.S. Ako ti se ne da sve čitati, na dnu teksta je slika sa svim našim predviđanjima na jednom mjestu. 😉
Najbolji film
Počet ćemo s najvažnijom nagradom, onom za najbolji film. U ovoj vrlo jakoj konkurenciji favoriti su bili The Irishman i Once Upon a Time in Hollywood, ali nakon što su dodijeljene sve ovogodišnje nagrade koje prethode Oscarima, očiti favorit je postao 1917, a glavna konkurencija mu je južnokorejski Parasite. Ratna drama Sama Mendesa osvojila je Golden Globe, BAFTA i PGA nagrade čime je postao favorit, ali u prilog mu ne ide činjenica da nema nominacije za montažu i u glumačkim kategorijama, a upravo te nominacije često određuju pobjednika. U posljednjih 40 godina Birdman je jedini film koji je osvojio nagradu za najbolji film bez nominacije za montažu, ali je ipak bio nominiran za tri glumačke nagrade. U povijesti Oscara samo je deset filmova osvajalo glavnu nagradu bez nominacije za montažu, a 11 bez glumačkih nominacija. Ukoliko 1917 osvoji nagradu za najbolji film, postat će prvi film kojemu je to uspjelo bez nominacija u obje važne kategorije. Upravo u tome svoju priliku vidi Parasite, južnokorejski film redatelja Bong Joon-hoa. Parasite je osvojio samo Critic's Choice nagradu koju je podijelio s Once Upon a Time in Hollywood i SAG nagradu za najbolji glumački ansambl, ali je miljenik publike i to bi moglo prevagnuti. Od kada je uvedeno preferencijalno glasanje za najbolji film, favoriti su često znali izgubiti od manjih filmova. Prisjetimo se samo nedavnih pobjednika: Spotlight, Moonlight i Green Book. Ukoliko Parasite osvoji nagrade na najbolji strani film, montažu i najbolji scenarij imat će velike šanse da osvoji i nagradu za najbolji film. U prilog Parasitu ne ide što je strani film, a strani film nikada nije osvojio ovu nagradu. Meksički film Roma prošle je godine bio glavni favorit za osvajanje te nagrade, ali to mu ipak nije pošlo za rukom. Možda je ove godine red na Parasitu…
Najbolji redatelj
Nagrada za najboljeg redatelja vrlo vjerojatno ide Samu Mendesu koji je za režiju 1917 osvojio skoro sve prethodne nagrade. Glavni konkurenti su mu Bong Joon-ho i Quentin Tarantino koji bi mogao iznenaditi i uzeti svog prvog Oscara za režiju. Sam Mendes je prije točno 20 godina osvojio Oscara za režiju za svoj prvi film u karijeri, American Beauty. Ukoliko istu nagradu osvoji i u nedjelju to će biti najduži vremenski razmak koji je jedan redatelj imao između osvajanja dvije nagrade.
Glumačke nagrade
Najveći zicer ove godine su sve četiri glumačke kategorije. Joaquin Phoenix i Renée Zellweger osvojili su Golden Globe, Critic's Choice, BAFTA i SAG nagrade za glavne uloge, a Laura Dern i Brad Pitt osvojili su iste nagrade za sporedne uloge i gotovo sigurno osvajaju i Oscare. Koliko je ovo bila jaka filmska godina govore sve one uloge koje nisu bile nominirane, a po mnogima su trebale biti. Samo neke od njih su: Adam Sandler (Uncut Gems), Eddie Murphy (Dolemite Is My Name), Awkwafina i Shuzhen Zhao (The Farewell), Robert De Niro (The Irishman), Jennifer Lopez (Hustlers), Taron Egerton (Rocketman), Willem Dafoe (The Lighthouse), George MacKay (1917) ili bilo tko iz Parasita. Zanimljivo je da je Scarlett Johansson nominirana u kategoriji glavne (Marriage Story) i sporedne (Jojo Rabbit) glumice i tek je 12. osoba kojoj je to pošlo za rukom. Cynthia Erivo je za rad na filmu Harriet nominirana u kategorijama najbolje glavne glumice i najbolje pjesme i ako kojim čudom u jednoj kategoriji pobijedi postala bi najmlađa sakupljačica EGOT-a, odnosno osvojila bi Emmy, Grammy, Oscar i Tony, najprestižnije nagrade za televiziju, glazbu, film i kazalište.
Najbolji originalni i adaptirani scenarij
U scenarističkim kategorijama dugo su favoriti bili Once Upon a Time in Hollywood i Little Women, ali ulogu favorita su preuzeli Parasite i Jojo Rabbit nakon što su prije par dana osvojili BAFTA i Writers Guild nagradu. Mnogi smatraju da je Greta Gerwig trebala biti među petorkom nominiranom za najbolju režiju pa je moguće da dobije Oscara za scenarij kao utješnu nagradu. Ipak, mislimo da nagrada za adaptirani scenarij ide u ruke Taike Waititija za film Jojo Rabbit. U kategoriji originalnog scenarija blagu prednost dajemo Tarantinu koji bi ovom pobjedom, uz Woodyja Allena postao jedini scenarist sa tri Oscara za originalni scenarij. U svakom slučaju ovo će biti jedne od napetijih kategorija večeri.
Najbolji animirani film
Još jedna napeta kategorija bit će ona za najbolji animirani film. Gusta će biti borba između Pixarovog hita Toy Story 4 i Netflixovog Klausa. Blagu prednost dajemo Klausu koji je dominirao na Annie nagradama za animirane filmove.
Najbolji film na stranome jeziku
Osvaja Parasite. Zicer večeri.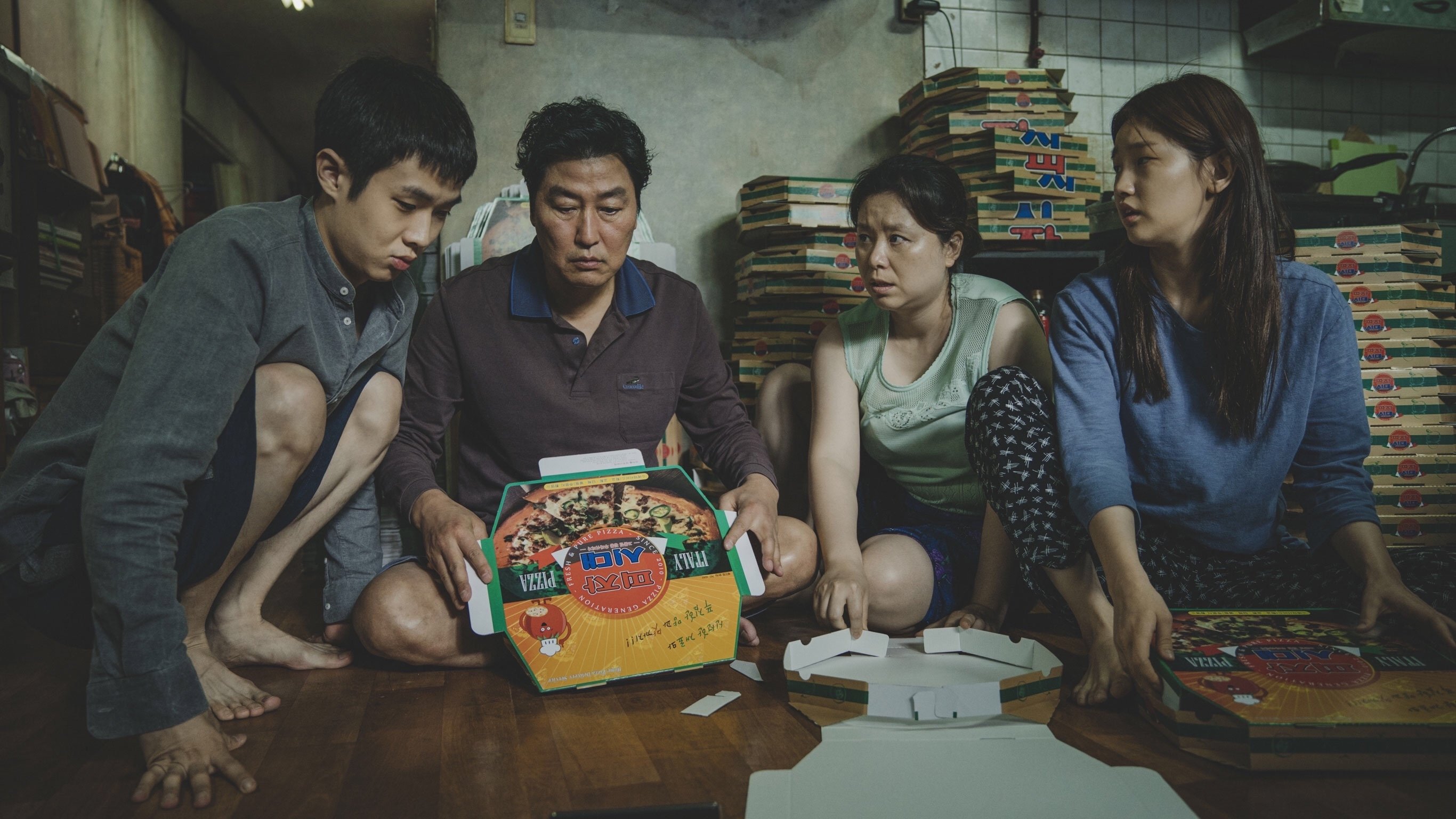 Najbolji dokumentarni film
Glavni favoriti za najbolji dokumenatarac su American Factory o tvornici kineske firme u Ohiou i For Sama o iskustvu jedne žene za vrijeme rata u Siriji. U prednosti je popularniji American Factory koji su producirali Barrack i Michele Obama.
Najbolja montaža
Jedna od najneizvjesnijih kategorija je i ona za najbolju montažu. U utrci za nagradu su Ford v Ferrari, Parasite i The Irishman. Blagu prednost dajemo Ford v Ferrari u kojem je montaža najočitija, ali ovo bi vrlo lako mogao osvojiti i Parasite.
Najbolja kamera
Još jedan zicer je Oscar za Rogera Deakinsa koji je zaslužan za to da 1917 izgleda kao da je snimljen u jednom kadru. Deakinsu će ovo biti druga nagrada iz čak 15 nominacija.
Najbolji vizualni efekti
Ova nagrada može otići svakome od pet nominiranih. U The Irishmanu su glavnim likovima skoro tri i pol sata digitalno pomlađena lica, Avengersi i The Lion King su cijeli jedan vizualni efekt, a i novi Star Wars je pun odličnih efekata. Pobjedu će kao i u ostalim tehničkim kategorijama vjerojatno odnijeti 1917 s najsuptilnijim vizualnim efektima.
Najbolja originalna glazba
Nagrada za glazbu ide islandskoj skladateljici Hildur Guðnadóttir koja je za rad na Jokeru već osvojila sve moguće nagrade. Nedavno je za rad na seriji Chernobyl osvojila Emmy i Grammy. Glasači Akademije možda se smiluju nad Thomasom Newmanom i za glazbu iz 1917 mu daju prvog Oscara nakon čak 15 nominacija. Zanimljivo, Thomasov uspješniji bratić Randy Newman također je nominiran u ovoj kategoriji, za glazbu filma Marriage Story, a nominiran je i za najbolju pjesmu, za Pictures iz Toy Story 4. Inače, Newmani su najnominiranija obitelj na Oscarima. Pet članova te obitelji skupilo je čak 93 nominacije i 12 Oscara u glazbenim kategorijama.
Najbolja originalna pjesma
U ovoj kategoriji najvjerojatnije osvajaju Elton John i Taron Egerton za (I'm Gonna) Love Me Again iz Rocketmana. Dianne Warren koja je nominirana za pjesmu I'm Standing With You iz filma Breakthrough ovo će biti jedanaesta nominacija bez pobjede i to ju čini najnominiranijom ženom bez pobjede u povijesti Oscara.
Najbolji produkcijski dizajn
Favorit je hollywoodski set 60-ih iz Once Upon a Time in Hollywood. Za vratom mu pušu famozna kuća koja je srž Parazita i rovovi iz 1917.
Najbolja šminka i frizura / Najbolji kostimi
Nagradu za šminku i frizuru osvaja Bombshell, a za kostime Little Women.
Najbolja montaža zvuka i najbolje miksanje zvuka
Za obje zvučne kategorije predviđamo 1917, ali mogao bi ih osvojiti i Ford v Ferrari.
Kratkometražni filmovi
Nagrade za shortove odnosno kratkometražne filmove uvijek je teško pogoditi jer nisu vezane niti za jednu drugu kategoriju niti važniju dodjelu nagrada. Najveći favorit je Learning to Skateboard in a Warzone (If You're a Girl) za dokumentarni short. U kategoriji igranog shorta prednost dajemo The Neighbor's Window ispred Brotherhood, a za animirani short Hair Love ispred Kitbull.
Radi preglednosti evo favorita u svim kategorijama na jednome mjestu.
Sve u svemu, u noći s nedjelje na ponedjeljak očekuje nas još jedna zanimljiva i napeta dodjela. Prijenos sa crvenog tepiha i predstavljanje nominiranih filmova počinje u 00:35 na prvom programu Hrvatske radiotelevizije, a sama dodjela oko 2 sata. Da ostanete budni pobrinuti će se već uigrana ekipa koju čine Nenad Korkut, Alemka Lisinski i Boško Picula s kojim smo uoči dodjele napravili intervju, koji će dodjelu cijelu noć komentirati iz studija HRT-a.