Što gledati ovaj tjedan? U nastavku pogledajte koje filmove smo odabrali za vas iz tjednog programa domaćih TV kanala.
PONEDJELJAK – 04.11.
Nova TV | 23:35 – Bitka za Pacific
Pacific Rim (2013)
Zemlja je u ratu s Kaijuima, morskim čudovištima koja su se pojavila iz interdimenzionalnog portala na dnu Tihog oceana. Za borbu protiv čudovišta, čovječanstvo se ujedinjuje kako bi stvorilo Jaegere, gigantske humanoidne robote, a svaki kontroliraju dva pilota čiji su umovi spojeni mentalnom vezom.
SRIJEDA – 06.11.
HTV 3 | 23:15 – Frida
Frida (2002)
Biografska priča o burnom životu poznate meksičke slikarice Fride Kahlo. Salma Hayek je za ulogu ove poznate umjetnice nominirana za Oscara, a film je od ukupno šest nominacije osvojio nagrade za najbolju šminku i glazbu.
Nova TV | 23:55 – Prijevara
Arbitrage (2012)
Robert Miller (R. Gere) tajkun je fonda za osiguranje koji očajnički pokušava završiti prodaju svoje kompanije prije nego što se dozna istina o njegovim mutnim poslovima. No, kad mu plan propadne za pomoć se obrati sumnjivom čovjeku za kojeg se nadao da ga više neće nikada vidjeti.
ČETVRTAK – 07.11.
HTV 2 | 21:00 – Sonja i bik
Sonja i bik (2012)
Komedija je o neočekivanoj romansi između Zagrepčanke Sonje (J. Franković), vegetarijanke i zagrižene aktivistice i sina organizatora seoskih bikijada Ante (G. Bogdan), pametnog vlaja i spretnog manipulatora u prodaji osiguranja.
Nova TV | 23:50 – Prijestupnik
Felon (2008)
Život brižnog supruga i oca (S. Dorff) pretvori se u pravu noćnu moru nakon što ga sud proglasi krivim zato što je slučajno ubio provalnika koji je provalio u njegov dom. Osim što mora dijeliti ćeliju sa serijskim ubojicom (V. Kilmer), Wade trpi bijes sadističkoga zatvorskog čuvara. Da bi preživio, morat će postati gadniji od svih.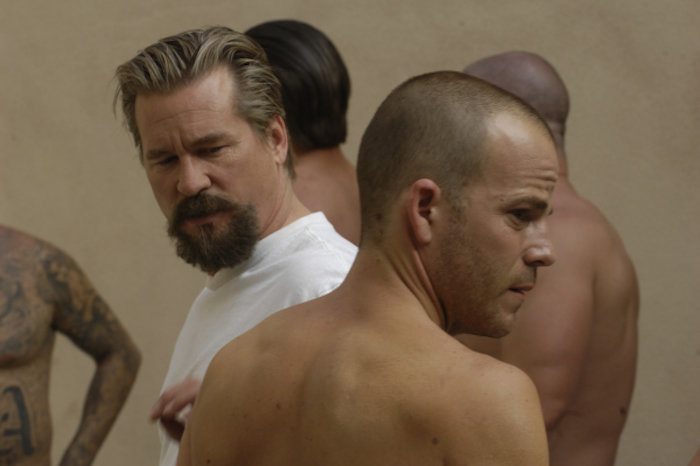 PETAK – 08.11.
HTV 1 | 20:05 – 21
21 (2008)
Film je inspiriran istinitom pričom o šest genijalnih studenata koji su pod mentorstvom neobičnog profesora matematike i genija za statistiku Mickyja Rosa (K. Spacey), uspjeli razviti savršeni sistem za pobjedu. Brojeći karte i koristeći zamršeni sustav signala, ekipa studenata uspijeva pobijediti kasina u Las Vegasu i osvojiti goleme iznose.
Nova TV | 22:20 – Čudo s Hudsona
Sully (2016)
Redatelj Clint Eastwood donosi nam istinitu priču o Chesleyju "Sully" Sullenbergeru (T. Hanks), pilotu heroju koji uspio prizemljiti avion na rijeku Hudson i time spasio 155 putnika i članova posade od sigurne smrti. Međutim, iako je Sully u javnosti bio prikazan kao pilot s izuzetnim sposobnostima, istraga bi mogla pokazati drugačije te mu uništiti reputaciju i karijeru.
SUBOTA – 09.11.
Doma TV | 19:55 – Oceanovih 13
Ocean's Thirteen (2007)
Danny Ocean (G. Clooney) ponovo okuplja svoju bandu iskusnih prevaranta, ovoga puta kako bi se osvetili bezobraznom vlasniku kasina Willyju Banku (A. Pacino) koji ih je prevario.
Nova TV | 22:15 – 2 Igrača
2 Guns (2013)
Dvojica američkih agenata (D. Washington i M. Wahlberg) iz dvije različite Vladine agencije na tajnim su zadacima i slučajno vode istragu jedan o drugome, što ih dovede do toga da ukradu novac od mafije. Međutim, tek nakon toga shvate da ih je mafija zapravo navela da ukradu 50 milijuna dolara od CIA-je.
Doma TV | 22:15 – James Bond 007: Pogled na ubojstvo
A View to a Kill (1985)
James Bond (R. Moore) se sukobljava s ludim industrijalcem (C. Walken) koji planira uništiti kalifornijsku Silicijsku dolinu kako bi ostvario monopol nad tržištem računalnih čipova.
HTV 1 | 00:35 – Kill Bill 2
Kill Bill: Vol.2 (2004)
Radnja filma nastavlja Tarantinovu priču o bivšoj profesionalnoj ubojici (U. Thurman) i njenom osvetničkom pohodu na bivšeg šefa i ljubavnika Billa (D. Carradine). Kill Bill 2 donosi neočekivani rasplet slučaja krvave osvete glavne junakinje.
NEDJELJA – 10.11
RTL 2 | 20:00 – Brzi i žestoki: Povratak
Fast & Furious (2009)

Dominic Toretto (V. Diesel) i Brian O'Conner (P. Walker) ponovno se udružuju na divljim ulicama Los Angelesa nakon što netko ubije Dominicovu djevojku Letty (M. Rodriguez), a FBI agent Brian istražuje dilera droge Bragu koji je povezan s Lettynim ubojstvom.
HTV 2 | 20:05 – Doba nevinosti
The Age of Innocence (1993)
Povijesna drama Martina Scorsesea o njujorškom visokom društvu iz devetnaestog stoljeća u kojem se mladi pravnik (D. Day-Lewis) zaljubljuje u ženu (M. Pfeiffer) koja se rastaje od muža, dok je on odnedavno zaručen za njezinu rođakinju (W. Ryder).
RTL | 22:40 – Prometej
Prometheus (2012)
Prometheus Ridleya Scotta je prequel redateljevog najvećeg hita Alien. Ufilmu pratimo tim istraživača otkrivaju trag o podrijetlu ljudske vrste koji ih odvodi na napeto putovanje u tamne dijelove Svemira gdje će se upustiti u zastrašujuću bitku o kojoj ovisi opstanak čovječanstva.
HTV 1 | 23:10 – Neki to vole vruće
Some Like It Hot (1959)
Odlična komedija šesterostrukog dobitnika Oscara Billyja Wildera, o dvojici glazbenika (J. Lemmon i T. Curtis) koji slučajno svjedoče mafijaškom ubojstvu te prerušeni u žene bježe u Floridu kao dio ženskoga benda. Joe koji je sada Josephine se odmah zagleda u prekrasnu pjevačicu u orkestru, Sugar Kane (M. Monroe), a u Jerryja koji je sada Daphne se zaljubio stari bogataš. Mafija im je za petama i uskoro dolazi u Miami pa Josephine i Daphne ne smiju ni pod koju cijenu pokazati da su zapravo muškarci.
*moguće je da tijekom tjedna dođe do naknadnih izmjena u TV programu.
Kompletan TV program pogledajte ovdje, a filmske vijesti i recenzije ovdje.